2021 Infiniti Q60 For Sale in Mississauga, Ontario

2021 Infiniti Q60 at Woodchester Infiniti
One of the hottest and most sought-after cars that money can buy is the new Infiniti Q60. This particular coupe has been built from a performance-based platform, and it will live up to the hype. Woodchester Infiniti is the preferred Infiniti dealership in Mississauga, Ontario, and serves Oakville, Burlington, Milton, Hamilton and George Town. This particular coupe will come in a myriad of trim levels, including the 3.0t PURE, 3.0t LUXE, 3.0t Red Sport I-Line and 3.0t Red Sport I-Line ProACTIVE. Let's jump into some of the available features and how well this vehicle operates.
Exterior Features
The exterior of the 2021 Infiniti Q60 has iconic styling that's eye-catching. The sheer sleekness of its facade is quite sultry. Long lines can be seen flowing across the body without any distractions. This coupe also has a low profile that exhibits long, flowing contours along the side of its body. The vehicle's double-arch grille is stunning as it sits between a set of piercing LEDs. These signature lights will pivot with your steering motion for better illumination around corners. The available wheel options will include 19-inch aluminum-alloy, 19-inch machine-finished and 20-inch sport wheels.
2021 INFINITI Q60 Interior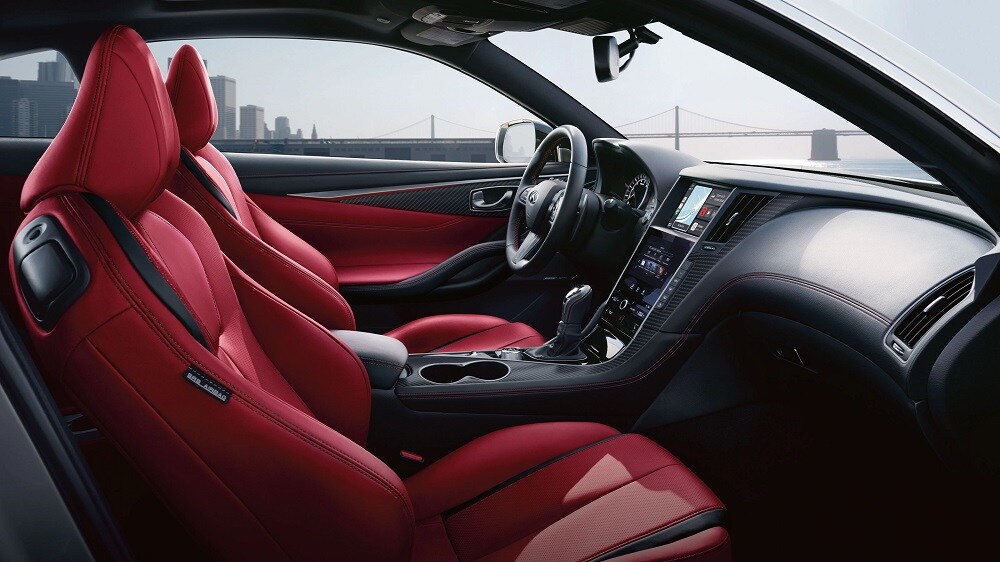 2021 INFINITI Q60 Exterior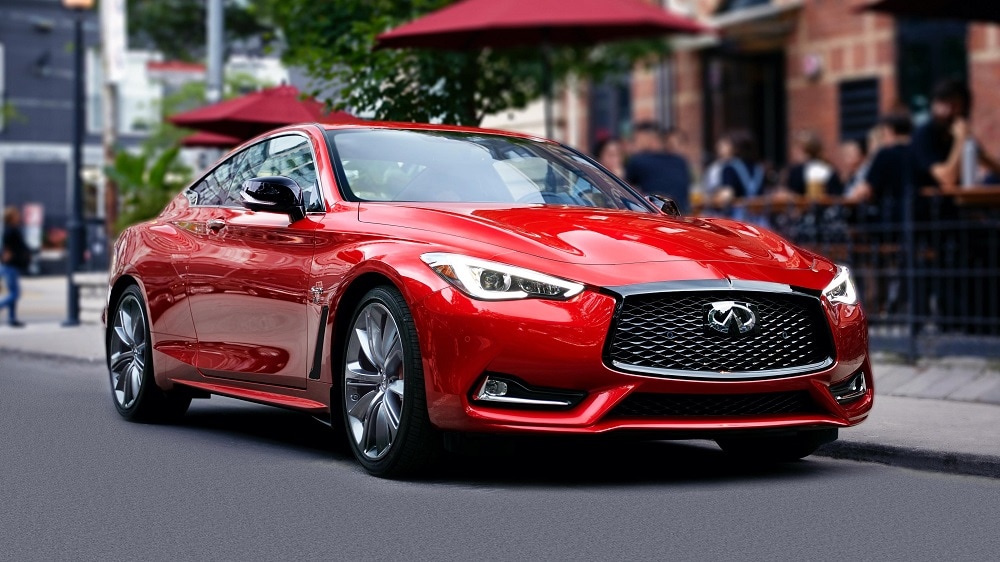 Interior Features
The Infiniti Q60 has a contemporary interior that's equipped with driver-centric features. Interior ergonomics are nearly perfect while sitting on semi-aniline leather upholstery. Sport-inspired details, aluminum trim, and carbon fibre trim are a few of the unique features that complete the interior. Smart technologies such as Remote Engine Start, Apple CarPlay, Bose Audio and Android Auto allow for added functionality.
Performance Specifications
The new Q60 is a well-performing coupe that delivers unmatched performance while still offering a comfortable ride. There's a 3.0-litre twin-turbocharged engine that cranks out a blistering 400 horsepower and 350 lb-ft of torque. Infiniti has also constructed another 3.0-litre turbocharged engine, and it will deliver an estimated 300 horsepower and 295 lb-ft of torque. Along with those engine options, an available performance dual exhaust adds to its character. The Q60 features both all-wheel-drive and rear-wheel-drive to cater to all enthusiast's specific preferences.
Financing Options
Here at Woodchester Infiniti, we urge all interested buyers to Contact Us to get a full view of our new inventory. Please fill out a financing application through our finance centre to begin the process of ownership. Our well-trained staff members will be eagerly waiting to help you find the perfect Infiniti and set up a test drive to ensure that it is the vehicle for you.
2021 INFINITI Q60 Inventory in Mississauga, Ontario