2021 INFINITI QX80 For Sale in Mississauga, Ontario

2021 INFINITI QX80 For Sale at Woodchester Infiniti
Woodchester INFINITI is proud to be the region's preferred INFINITI dealership located in Mississauga, Ontario. Serving the surrounding areas of Burlington, Milton, Hamilton, George Town, and Oakville, we're dedicated to bringing the best new inventory and customer service to you. If you're looking to get a new INFINITI this year, we can point out one that will surely please your entire family, which is the 2021 INFINITI QX80. The latest QX80 stands out as a top-rated luxury SUV for many reasons ranging from a designer interior to an elegant yet functional exterior and plenty of power. We invite you to explore all that the 2021 QX80 offers at our dealership by scheduling a test drive.
2021 INFINITI QX80 Overview
The 2021 QX80 is a car that exudes luxury, style, and convenience inside and out. LED lighting, standard on the QX80 this year, make it equally safe and stylish. Large alloy wheels add to its commanding presence, and there are five bold paint colours offered for a perfect look. The cabin features split-folding seats, ergonomic leather seats, and other first-class conveniences. A strong engine and forward-thinking technology are additional highlights for the QX80 this year.
Performance Specifications
In 2021, the INFINITI QX80 is just as comfortable to ride in as it fun to drive. The QX80 gets an advanced Hydraulic Body Motion Control mechanism that automatically adapts the QX80's suspension system as you drive for a smooth and steady ride. The QX80 comes standard with all-wheel drive to get you through severe conditions with ease and confidence. All trims have the same engine, a strong V8 with a displacement of 5.6-litres producing 400 horsepower and 413 lb-ft of torque.
2021 INFINITI QX80 Interior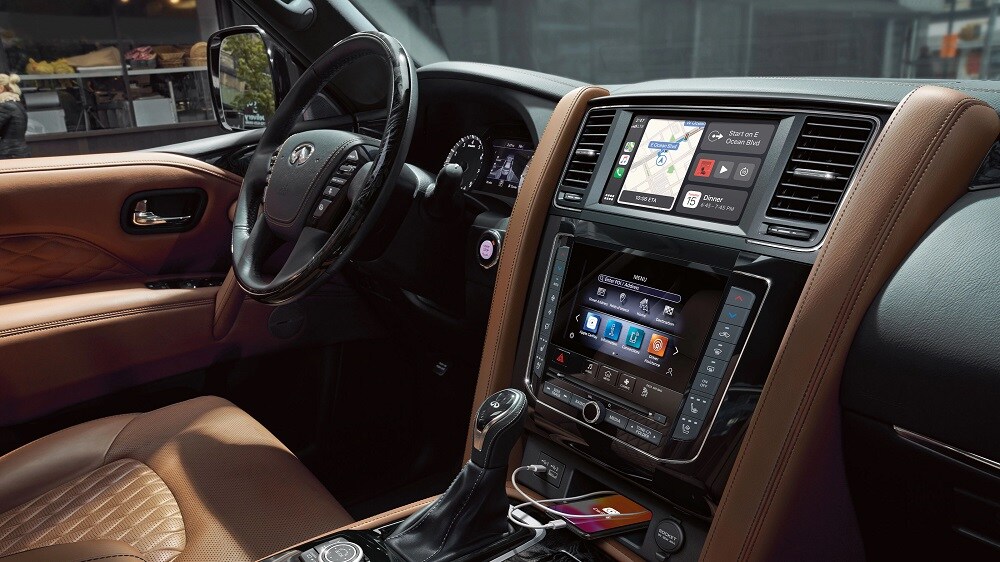 2021 INFINITI QX80 Exterior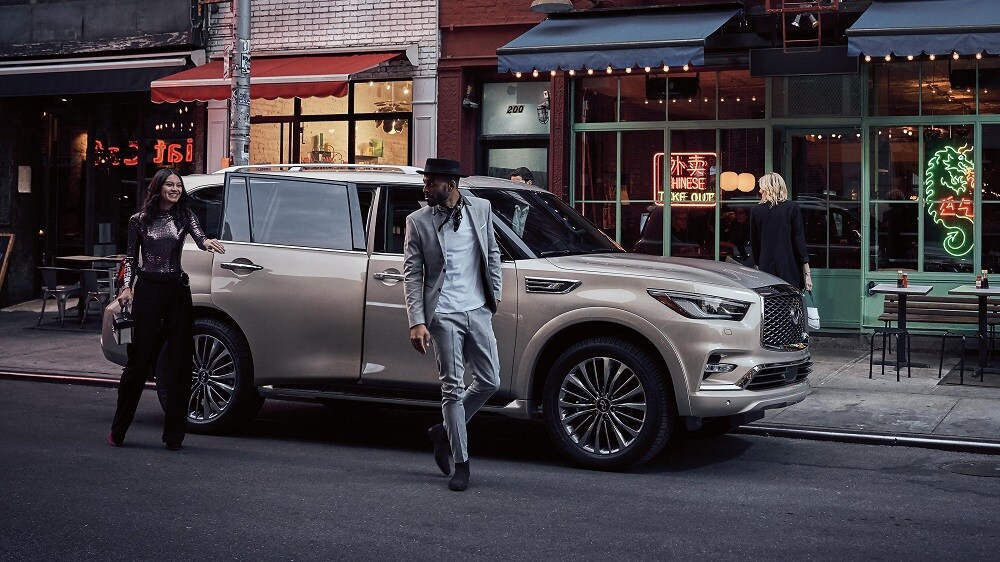 Safety Features of 2021 INFINITI QX80
A suite of driver-assist technologies comes standard with the QX80 to further add to its functionality. A high-tech backup camera is standard on the QX80 this year, called the Smart Rearview Mirror. The rearview mirror can alert you to pedestrians and vehicles in the back as you're reversing using cameras and sensors. A responsive traction control system and vehicle dynamic control system are other notable safety aids of the INFINITI. Blind-spot Warning, Forward-collision Mitigation, Lane-keep Assist, Emergency Braking, and Backup-collision Intervention are some of the advanced safety aids on the QX80 to help you drive safer in all situations.
2021 INFINITI QX80 Design Features
If you want a car that makes a grand entrance, the 2021 QX80 is the perfect SUV for you. The QX80 sets the bar of luxury and style high with its intriguing interior and exterior designs. On the front end, the QX80 makes a memorable first impression with its double-arch grille, dramatic chrome accents, and a square jawline add to its appeal. Jewelled LED headlights add to the QX80's unique exterior styling while also improving its visibility on the road.
Riding in the QX80 is a first-class experience no matter where you're seated in the cabin. The third row of seats folds flat with the press of a button, and the second row of seats can fold down for an impressive total of 2,694 litres in cargo capacity. The QX80 also has heated seats and leather upholstery for additional comfort.
2021 INFINITI QX80 Connectivity Features
Having one infotainment system is convenient, but the QX80 takes the technology a step further. The 2021 QX80 in Mississauga, Ontario, has two infotainment screens to help you stay safe and connected without missing a beat. Both screens are conveniently located within easy reach of the driver allowing for a safer user experience. With an Apple or Android phone in hand, you can access all your favourite features on the road, such as hands-free calling, voice messaging, navigation, and more. The smartphone pairing system also allows you to listen to your favourite tunes as you're travelling. A remote smart key entry system is another highlight that you'll find in the cabin of the 2021 QX80.
Contact Us
Once you've decided that the 2021 QX80 sounds like a car you'd like to learn more about or try out for yourself, the next step is to Contact Us for more information. As a dealership that puts our customers first, we are here to help you buy a new car that you'll be happy and satisfied to own. From scheduling a test drive to figuring out vehicle financing, it's our goal to make car shopping as convenient and straightforward as possible. Contact us today for more information and to check out our new inventory.
2021 INFINITI QX80 Inventory in Mississauga, Ontario